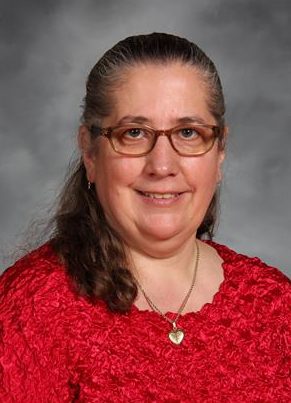 Eileen Jessen: Administrative Assistant
Mrs. Jessen came to St. Raphael School as the Administrative Assistant in 2018. She has a Bachelor Degree in Business Education from Eastern Illinois University. She has worked in classrooms and school offices in both Illinois and Arizona. She has taught, substituted, worded as a Paraprofessional Aide, an Office Manager and now an Administrative Assistant. Mrs. Jessen has also worked in the business sector. She managed a McDonald's restaurant for 15+ years, worked in a dental office, and did secretarial work for a foreign company here in the U.S.
Mrs. Jessen grew up with a strong Catholic background as two of her aunts are both nuns with the order of St. Francis of Mary Immaculate and both worked at schools in the Diocese of Joliet. Mrs. Jessen attended SS Cyril and Methodius while growing up in Lemont and now lives in Crest Hill with her husband and 2 cats. She loves sports, outdoors, and doing jigsaw puzzles. Mrs. Jessen loves the St. Raphael community. In fact, she loves working here so much that her husband says he has no chance of going back to Arizona anymore!