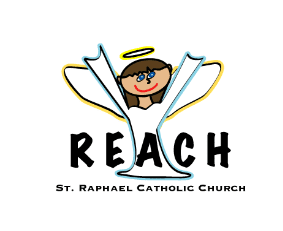 Dear REACH Parent,

The REACH program will be held at St. Raphael School. REACH classes will run from September to April. Ideally, we would like to hold classes every other Saturday, but due to scheduling at St. Raphael's, our schedule may be slightly different. Classes will be from 9:30 A.M. – 11:00 A.M. The confirmed REACH Calendar will be sent to you in September.
The REACH Program is funded by St. Raphael Church and the Knights of Columbus. There is no cost for the REACH Program. To help us know your child better and to ensure that your child is successful at REACH, please fill out the Special Needs Information Form. Please let me know if there is anything I can do to make your child's experience at REACH a special, meaningful, and positive one.
Please complete the online Student Enrollment Form and Medical Release Form. You will be notified in September of your child's class. If classes are full, your child will be put on a waiting list or you may be asked to be a helper in the program. Your promptness in registering your child is most appreciated. Thank you!
Please feel free to call me if you have any questions.
Yours in Christ,
Jeanne McDonald, Coordinator of REACH
630-542-5326 (Cell)
Registration Instructions:
Registration is open and must be submitted on or before (insert date)
Registration must be completed on a computer. You will not be able to successfully complete the three required steps from your phone.
Registration is not considered processed, and your child(ren) will not be placed in a class until the below has been completed.
Complete the online Student Enrollment Form and submit.
Fill out the Medical Release Form and save to your computer. You have two options after filling out and saving the form.

1. Email to Marge Coronado at mcoronado@st-raphael.com or 2. Save the form to your computer and add the form when you fill out the Special Needs Information Form

Fill out and submit the Special Needs Information Form

The option to upload the filled out Medical Release Form is at the bottom of the form.