Our Parish History
St. Raphael was the original name of Sts. Peter & Paul Church when it became a parish in 1846 and was also the name of its first pastor, Fr. Raphael Rainaldi.
Due to Naperville's rapid growth, the Diocese of Joliet established a second parish in the city in 1960. Built on land donated by Harold and Margaret Moser, our faith community began in 1961 as a mission school to accommodate the overflow of students at Sts. Peter and Paul.
We emerged officially as a parish in 1963 when Fr. William Condon was introduced as our first pastor. Our first Mass was celebrated on June 30, 1963 in a converted classroom. At that time, Naperville had a population of 16,900 and our parish numbered just 400 families.
In 1964 while the church and school were under construction, the church moved temporarily into the warehouse section of the Montgomery Ward catalog store at Naperville Plaza. It was at this location in November 1964 that St. Raphael celebrated its first Masses in English.
Masses began in the new church (currently the school gym) in December 1964; and by September 1965, construction of the parish complex was completed and dedicated on October 28, 1965. The layout of the church facilitated interaction among the people in many ways including its semi-circle design. St. Raphael School graduated its first class of 43 eighth graders on June 7, 1967.
As our parish continued to grow, our current church was built and the old worship space was converted into the school gym. The first mass was celebrated in the new church on December 19, 1992.
In 2013, we celebrated our 50th anniversary as a faith community. We currently serve over 4,200 registered families.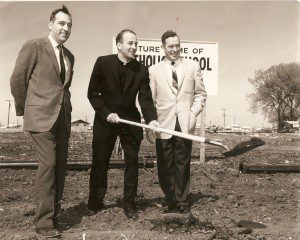 St. Raphael the Archangel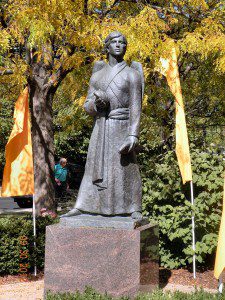 St. Raphael is one of seven Archangels who stand before the throne of the Lord. He was sent by God to help Tobit, Tobiah and Sarah. At the time, Tobit was blind and Tobiah's betrothed, Sarah, had had seven bridegrooms perish on the night of their weddings. Raphael accompanied Tobiah into Media disguised as a man named Azariah. Raphael helped him through his difficulties and taught him how to safely enter marriage with Sarah. Tobiah said that Raphael caused him to have his wife and that he gave joy to Sarah's parents for driving out the evil spirit in her. He also gave Raphael credit for his father's seeing the light of heaven and for receiving all good things through his intercession.
Besides Raphael, Michael and Gabriel are the only Archangels mentioned by name in the bible. Raphael's name means "God heals." This identity came about because of the biblical story which claims that he "healed" the earth when it was defiled by the sins of the fallen angels in the apocryphal book of Enoch. Raphael is also identified as the angel who moved the waters of the healing sheep pool. He is also the patron of the blind, of happy meetings, of nurses, of physicians and of travelers.
His feast day is celebrated on September 29th.