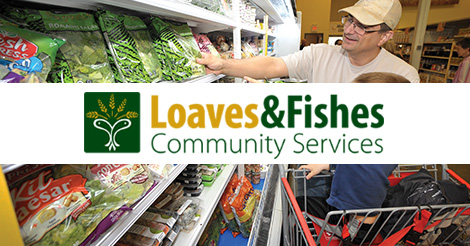 This pantry began in a small closet at St. Raphael in 1984 and has now grown to become its own not-for-profit agency serving over 10,000 people (over 4,000 children and 2,500 households) per month.
St. Raphael continues its support of the pantry by having a regular drop-off collection of non- perishable food items during the week on a moveable cart in the alcove by the stairway leading to the 2 nd floor. Loaves and Fishes does a pickup the third Thursday of the month.
Parishioners may also help at the pantry by packing grocery bags and assisting with food distribution, sorting food or stocking shelves, or delivering groceries to the homebound. St. Raphael also hosts a yearly collection for Loaves and Fishes client families of cleaning supplies through our Bag-It Brigade (formally the Bucket Brigade).