Consecration to St. Joseph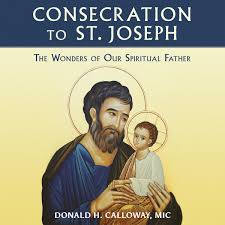 Join us in a 33-day consecration to St Joseph starting February 15 through March 19 (the Solemnity of St Joseph). Through daily themes, reflections, prayers and weekly video sharing, we will journey to the final culmination of a solemn Consecration to St Joseph. Please click the link below to order a copy of the book.
Consecration to St Joseph
Feb 22, 2021 07:00 PM
        Every week on Mon, until Mar 15, 2021, 4 occurrence(s)
        Feb 22, 2021 07:00 PM
        Mar 1, 2021 07:00 PM
        Mar 8, 2021 07:00 PM
        Mar 15, 2021 07:00 PM
Please download and import the following iCalendar (.ics) files to your calendar system.
Weekly: https://zoom.us/meeting/tJUtc-uqqzMpHNP_0hX_UmujbAz_k0RM-pMb/ics?icsToken=98tyKuCprj8oGNGdsx-ARowcAo-ga-rwmFxego1to0_tOx9mbxb8NMNYDbkvIvWd
Join Zoom Meeting:
https://zoom.us/j/91042258367?pwd=MDBETGkwdENtb05GUlppQ3g0d240Zz09
Meeting ID: 910 4225 8367
Passcode: GG64un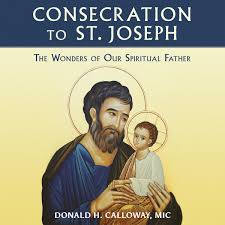 Click the link below to access a website where you can purchase the book needed to follow the daily devotion to St Joseph.
Downloadable versions of the book (Kindle and ebooks ) are available on Amazon and ShopMercey.com
Any issues with obtaining a book please contact the parish.
Deacon Kurt's testimonial:

My Brothers and Sisters of St. Raphael, do you ever feel lost or alone? Feeling that you may not be doing the best you can as a parent, spouse, sibling, friend or follower of Christ? My father passed away in 2003, so many times since then, I have felt this way and wished that my father was still here so I had someone to turn to, to talk to, to help me. What it took me way too long to discover was that I do have someone like that in my life…our spiritual father St Joseph. As the earthly Father of Jesus, husband to our Blessed Mother Mary and head of the Holy Family, St Joseph is well tuned into our struggles within our own family. I have prayed to St Joseph in the past, but had never seen him as a "go to" intercessor. Well, that has changed my friends.

This past Fall, I joined with a handful of faithful St Raphael men to begin a 33 day Consecration to St Joseph. "Total consecration to St. Joseph means you make a formal act of filial entrustment to your spiritual father so that he can take care of your spiritual well-being and lead you to God." Through some daily study and prayer we learned the virtues of St Joseph and hope to imitate him in how we live and act. After only been a couple of weeks I felt a difference. What a blessing it has been!! My prayer life has improved, I believe my demeanor at home has changed and I feel more connected with not only St Joseph but with the whole Holy Family.

Our goal is to bring these blessings to all you. To share with you the wondrous gifts St Joseph has to offer all of us and to strengthen our spiritual lives as faithful followers of Christ through the head of the Holy Family. For this Lenten season, we are offering you the opportunity to participate in the 33 Day Consecration to St Joseph. Beginning on February 15, 2021 and ending on the Solemnity of St Joseph March 19th our parish community can share in this life changing consecration. Through daily themes and reflections on the life and charisms of St Joseph, prayers to and for St Joseph and weekly video sharing by fellow parishioners who have previously completed the consecration, we will journey to the final culmination of a solemn Consecration to St Joseph.

Don't miss out on this wonderful opportunity to enhance your Lenten experience and honor our Spiritual Father in this The Year of St Joseph instituted by Pope Francis. The benefits to you and your family will be tangible and instrumental in building your own Holy Family of strong followers of Christ.