Andrea Racibozynski Scholarship Presented May 15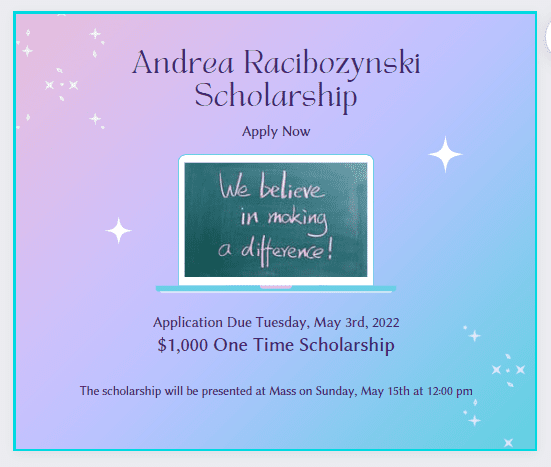 Andrea Racibozynski was a vibrant and active teen. She was active in school and church activities. She took part in youth ministry and helped lead retreats; she touched many lives as an active member of REACH. Andrea's faith and involvement here at St. Raphael lives on through all of us. We have established a memorial fund in memory of her. The interest earned from the memorial fund will serve as a $1000 one time scholarship
to be applied toward college. We are presently accepting applications for the scholarship.
The criteria for being eligible include the following:
*Member of Saint Raphael Church
*Active involvement in the parish
*Current high school senior planning to attend college in the fall

The scholarship will be presented at mass on Sunday, May 15th at 12pm.
The deadline for turning in the application was Tuesday, May 3rd, 2022.
If you have any questions, please contact Director of Youth Ministry Chris Traub.